Update by the Shan Human Rights Foundation
August 28, 2023
Farmer shot dead, his injured wife arrested by SAC troops in Pekhon township, southern Shan State
On August 21, 2023, SAC troops arbitrarily shot at a couple farming in a field near Kawng Ee village, Pekhon township, southern Shan State, killing the husband instantly and injuring his wife, who they arrested.
Early that day, as there was a lull in fighting between SAC and resistance forces, the husband, aged 31, and his wife, aged 28, from Koong Suan village, had gone to clear their farmland to grow corn between Kawng Ee village and Settaw village. At around 8 am, about five SAC troops coming from Payakone hill — where they had set up a camp in 2022 – approached the farmers' field and shot at them for no reason.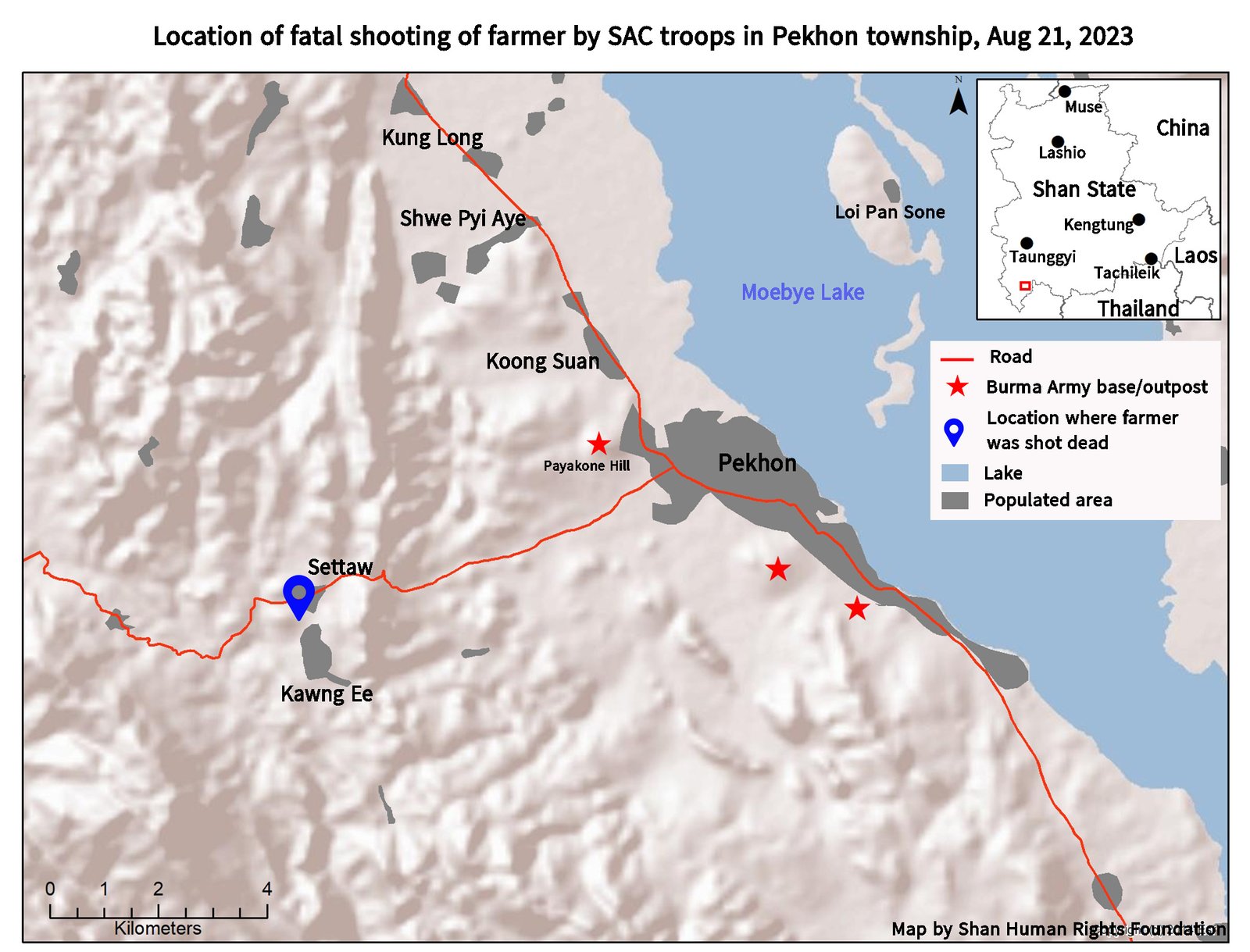 The husband was hit by six bullets and died instantly in the field, while his wife was hit and injured in her shoulder. The SAC troops then took the corpse and the injured woman to their camp at Payakone hill.
The farmers' relatives went to the camp to beg for both the corpse and the woman to be released, but the SAC troops demanded payment of 3,500,000 kyat. Only after the relatives had given them this sum on August 22, did the SAC troops hand over the corpse and the injured woman.
At noon on August 24, the relatives cremated the body at Koong Suan village cemetery.
Contact
Sai Hor Hseng        +66 94 728 6696      Signal  (Shan, English)
Ying Leng Harn      +66 98 118 3767                   (Burmese)
Download Pdf files >>> Shan Burmese English